Therapies
Sponsors
view all sponsors
Advocacy
MSHO continuously contacts legislators, provides comments to policy makers and collaborates with payers on issues of concern to those delivering care to cancer patients.
Education
It is important that our members are aware of meetings, web casts, and other educational opportunities specifically designed to address the complexities of cancer care.
Clinical Trials
MSHO Supports Cancer Clinical Research Efforts in Michigan
MSHO is committed to furthering the advancement of cancer care by supporting the many organizations that provide cancer clinical trials to Michigan's cancer patients.
With clinical trials being performed in Michigan at our four prestigious academic medical centers and six successful NCI Community Clinical Oncology Programs (CCOPs), cancer patients of Michigan should be able to consider a cancer clinical trial as a potential treatment option for their disease.
The Society has a long history of involvement in efforts to further Cancer Clinical Trial participation. MSHO was a co-convener of Michigan Cancer Consortium Clinical Trials Action Plan to double enrollment in Michigan Cancer Clinical Trials .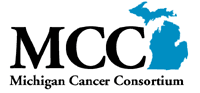 Our most significant contribution to advance clinical trial recruitment and retention was acting as facilitator of Michigan Working Group to Improve Cancer Outcomes' 'Consensus Guidelines for Healthcare Coverage of Routine Patient Care Costs Associated with Oncology Clinical Trials.'