Complete Story

10/08/2018
Ulka Vaishampayan, M.D.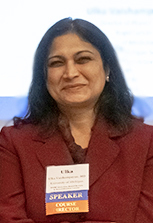 Dr. Ulka Vaishampayan is the Director of the Phase I program at the Barbara Ann Karmanos Cancer Institute, and the Chief of Solid Tumor Oncology in the Department of Oncology, Wayne State University, Detroit, MI. She is a Professor of Oncology at Wayne State University and is Associate Director of the Hematology/Oncology Fellowship program. She has developed, conducted and reported clinical studies in the field of early therapeutics and with a focus on GU malignancies. She is site PI of the UM-1 grant from the national cancer Institute's Early Therapeutics Cancer Research Network and is co-PI of the Prostate Cancer Clinical Trial consortium grant from the Department of Defense. She has recently obtained funding from the Gateway foundation for a grant project and launched a trial entitled "Phase II trial of BATs and immune checkpoint inhibitor in metastatic prostate cancer."
She has served as chair of the GU non prostate track of the Education Committee of the American Society of Clinical Oncology. She was named chair of the Advanced Renal subcommittee within the GU committee of the Southwest Oncology Group in 2018. She has published in a number of peer reviewed journals such as Journal of Clinical Oncology, Clinical Cancer Research, Cancer, and Urology and has been a coauthor on a paper in the prestigious New England J Medicine. She has also authored numerous review articles, editorials and book chapters. She is an active reviewer for a number of journals including J Clin Oncol, Clin Cancer res, J of Urology, Urology, Cancer, and Int J of Rad Oncol, Biol and Physics.
In summary, Dr. Vaishampayan has conducted clinical research in the management of GU cancers and clinical trials with a variety of novel agents in early therapeutics and translational settings. Her research interests also include trying to evaluate novel pathways and biomarkers in cancers.